BVTU Staff / Union Representatives
The role of the school staff / union representative (staff rep) is an essential and valuable job.
The staff rep ensures that members at each school are aware of the collective agreement.

The staff rep is someone people can approach with immediate questions and/or concerns.

The staff rep shares what is happening on the ground at each school in the district with the executive committee.

The staff rep also reports back from the executive committee meetings to teachers.

The staff rep can provide support for coworkers by being present at a meeting with administration.
---
This resource on the Role of the Staff Rep, shared from Power River Teachers' Union (used with permission and edited), gives a great overview.
Many of our staff reps are going on multiple years in this volunteer role. Please thank them for what they do! Please also consider at some point learning a bit about being a staff rep -- when you can, if you can. Additional members increasing their capacity increases what we can do as a whole.
---
The workshop below looks to be an excellent resource.
Also please note that funding is available for release time for training. Contact your local president if interested!
The BVTU is working on accessing a Staff Representative handbook from a like-sized local and will upload as soon as one is sourced.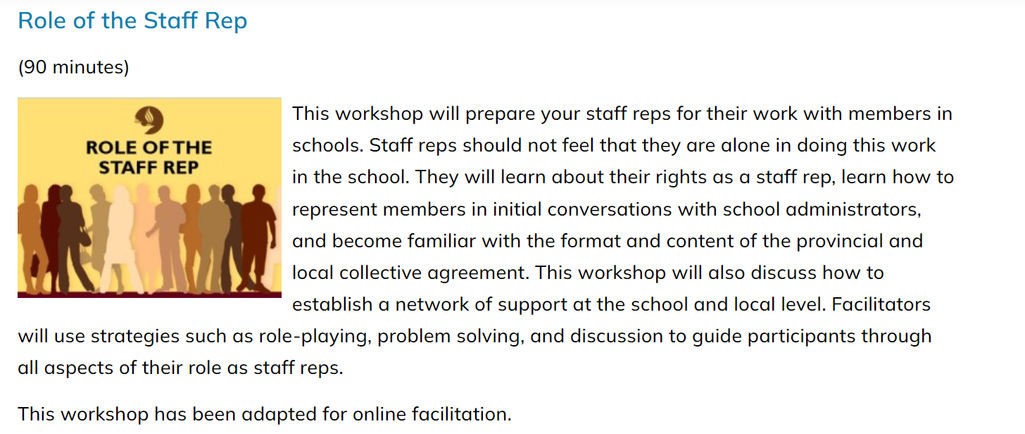 2023 2024 School Staff Union Representatives
Muheim Elementary (Smithers): Amanda Forstbauer-Bourrie
Walnut Park Elementary (Smithers): Gail Tendall
Smithers Senior Secondary: TBD
Telkwa Elementary: Nikki Kluss
Houston Secondary: Tom Searby
Silverthorne Elementary (Houston): Teresa Oulton and Leslie Thiessen
Twain Sullivan Elementary (Houston): Cody Lind